Why Us?
PaintCO is a well-established commercial business with a strong focus on shop and office fitouts and high-end residential redecoration.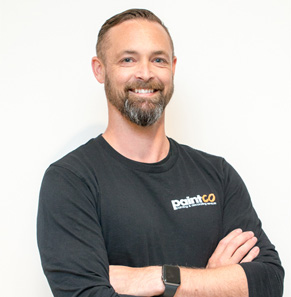 About PaintCO
With over 25 years' experience in the painting industry, Nick established PaintCO Ltd over ten years ago. He immediately set himself apart from other painters with his excellent communication and attention to detail, quickly thrusting him into competition with some of Auckland's top painting contractors.
PaintCO Ltd has since become a leading contractor for such commercial projects as Z Petrol Stations, Michael Hill Jewellers and Vodafone with work requests coming from both nationwide and overseas.
High-end residential projects have been featured in NZ House & Garden and Renovate Magazine NZ,  providing PaintCO with the opportunity to work on a number of extraordinary homes throughout the wider Auckland area.
Today, PaintCO is made up of a professional team of experienced and skilled painters with a reputation for having a total commitment to client satisfaction through effective and reliable communication and high-quality workmanship.
Nick the director is on the board of Master Painters.
Why Choose PaintCO?
PaintCO Ltd is a family-owned and operated painting company in Auckland, using over two decades of experience to deliver exceptional results. Here are some reasons why you should choose PaintCO for your next painting project:
Being a family-owned business means you deal directly with Nick, who established PaintCO over ten years ago.
We listen to our clients, offer expert advice, and complete your painting project in a professional, reliable and courteous manner.
With over 25 years' painting experience, Nick has surrounded himself with a team of skilled painters who are dedicated to client satisfaction with high quality workmanship.
We have completed commercial painting projects for some of New Zealand's top companies. For more information, visit our projects page. 
Quality Paints and Equipment
We use only the highest quality paint, coatings, plaster and equipment. We recommend and trust Dulux and Resene paints.
Environmentally Friendly Products
We endeavour to minimise any impact on the environment wherever possible by using quality eco-friendly paints, and by the way we clean up, dispose of, and recycle paint products.
At PaintCO, we realise every business and homeowner is on a budget. We give free, no obligation quotes on all projects and do all we can to work within your budget.
For the benefit of our team, our clients, and other sub-contractors on site, safety in the workplace is a priority for PaintCO.
Master Painters Guarantee
PaintCO is proud to be a certified Member of Master Painters New Zealand. That means, we can provide you with all the quality assurances provided by Master Painters.


Awards
PaintCO's professionalism and technical knowledge has led to us winning a number of awards. Among our latest awards are:

2021
Master Painters NZ Gold Award Winner for excellence.

Gold Award for Rework Exterior – Character
Gold Award for Rework Interior – Contemporary

Master Builders

National Supreme Winner
National Category Award

Regional Supreme Winner
Gold Award 2021
Bostyn Parker – Master Painters NZ Upper North Island Apprentice of the Year Award. Click here to read more.