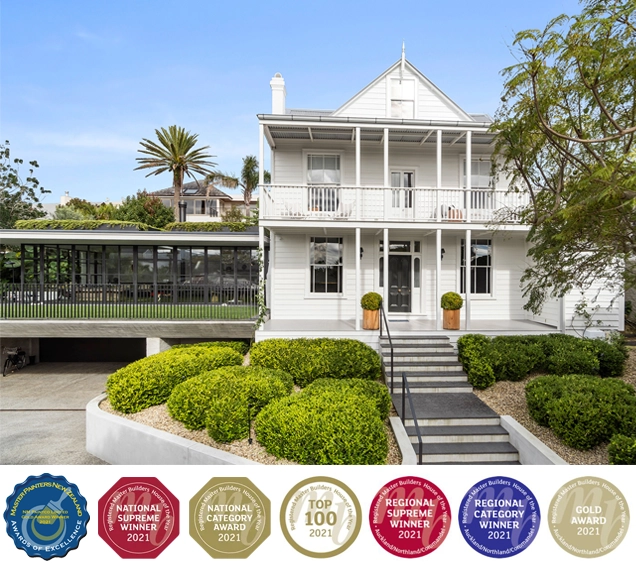 Award Winning Selby Square
Residential paint & restoration
An award-winning renovation in the 2021 Residential Master Painter of the Year Awards and the Registered Master Builders House of the Year Awards 2021!
2021 Residential Master Painter of the Year Awards winner
Gold Award for Rework Exterior – Character

Gold Award for Rework Interior – Contemporary
Registered Master Builders Supreme Renovation of the Year 2021 
National Supreme Winner
National Category Award
Regional Supreme Winner for Auckland / Northland / Coromandel
Gold Award 2021
Regional Category Winner in the Bunnings Renovation Over $1 Million category
"Attention to detail has been maximised throughout this project, with most features requiring and demonstrating an exceptional level of workmanship.  It is clear that this project was a tremendous collaboration between the owners, architects, builders, and all other trades. Completed with great passion, this home is an outstanding result."   Registered Master Builder of the Year Awards
PaintCO was lucky enough to get the chance to paint & restore this unique original St Marys Bay property with an old-meets-new modern twist.
Selby Square is made up of the original villa which consists of a beautiful bespoke constructed and painted fibrous plaster formed stairwell with the new extension featuring an irrigated planted roof catering for the hand crafted internal vaulted ceilings.